Program status
Unfortunately, due to COVID-19, this program has been cancelled.
The good news is there are more than 100 Summer College online courses from which to choose. In addition to architecture, robotics, and sustainability, we are offering classes in subjects including physics, psychology, and transmedia. See the online course roster for all your options.
These regular Cornell courses give you a chance to study online with Cornell faculty, work alongside undergraduates, earn college credits, gain a Cornell transcript, and get a head start on preparing for college applications. We also will continue to offer you our one-on-one admissions counseling and other engaging ways to connect with Cornell.
Visit our online learning pages to read about course formats, academics, tuition, registration deadlines, and more.
Read about Cornell Summer College & the Novel Coronavirus (COVID-19).
Program expectations

You'll be expected to
Attend class daily.
Complete all assignments in a timely manner.
Conduct lab exercises.
Team up with classmates for a design challenge.
Develop written and oral communication skills.
Course
You'll be enrolled in the three-credit course
Exploration in Engineering Seminar (ENGRG 1060)
This course meets
Mondays and Wednesdays, 2:30-5:30 p.m., with labs on Tuesdays, Thursdays, or Fridays, 1:00-4:30 p.m.
Maximum enrollment: 108
In addition, you'll select one or two additional Cornell courses (totaling no more than eight credits), in any subject, from the more than 50 listed on our six-week course roster.
Please also review tips for selecting Summer College courses.
Prerequisite
Completion of a pre-calculus or calculus mathematics course is helpful. Familiarity with basic physics and chemistry is expected; completion of AP or IB coursework is not essential. The most important prerequisites for the Exploration in Engineering Seminar are expansive curiosity and a strong motivation to develop your creative abilities and teamwork skills.
Required textbooks and materials
Your required course materials are available for purchase through the Cornell Store. More details available soon.
Purchase from outside vendors
A scientific calculator that includes at least trig, log, and exponential functions
An iClicker, new or used* (Note: NOT an iClicker 2)
*Information about using iClickers is available from Cornell Information Technologies. Devices can be purchased from the Cornell Store or other vendors such as Amazon.com. Alternatively, students can purchase and use the service provided by the smartphone app REEF, which connects to the iClicker system.
Program events
View your opening weekend and check-in schedule.
Friday, July 3: In observance of Independence Day, we will not have classes.
Mondays, July 6 or 13: College Admissions Workshops, 2:30–3:45 p.m.
Monday, July 20: College Fair, 4:00–6:00 p.m., Statler Hall Ballroom
Final checkout
To receive credit, you must stay until your last exam or project has been submitted. Finals cannot be moved, so make sure to arrange travel plans around your exam schedule.
Residence hall checkout dates and times
Students enrolled in a writing class (ENGL 1131 or 1132/WRIT 1011) turn in their final papers on Friday, July 31.
Students who are not taking a writing class (ENGL1131 or 1132/WRIT 1011) must check out within 24 hours of their last final (see below) or by 10:00 a.m. Wednesday, August 5, whichever comes first.
Students enrolled in ENGRG 1060 take their final exam on Tuesday, August 4 from 6:00–8:30 p.m.
To determine the time of the final exam for your other course(s), use chart below.
How to use the chart below
Find your class start time in the left-hand column, and read across the row to find your final exam day and time.
Example: If you're enrolled in PSYCH 1101, which starts at 10:00 a.m., your final will be held on Tuesday, August 4, from 8:30 to 11:00 a.m.
If your class start time is not listed below, use the time in the left-hand column that is closest to your class start time.
Example: You're enrolled in CLASS 1692, which starts at 1:15 p.m. On the chart below, the closest class start time listed is 1:00 p.m., so your final exam will be held on Tuesday, August 4, from 1:30 to 4:00 p.m.
| | |
| --- | --- |
| Class start time | Exam time |
| 8:30 a.m. | Monday, August 3, 8:30 to 11:00 a.m. |
| 10:00 a.m. | Tuesday, August 4, 8:30 to 11:00 a.m. |
| 11:30 a.m. | Monday, August 3, 1:30 to 4:00 p.m. |
| 1:00 p.m. | Tuesday, August 4, 1:30 to 4:00 p.m. |
| 2:30 p.m. | Tuesday, August 4, 6:00 to 8:30 p.m. |
| 4:00 p.m. | Monday, August 3, 6:00 to 8:30 p.m. |
| 6:00 p.m. | Monday, August 3, 6:00 to 8:30 p.m. |
| All other class times | Last class meeting |
Exam hours are subject to change; they will be finalized in March. Please check back then.
Final meal date
The last meal on your Cornell ID card is dinner on Tuesday, August 4. You'll be charged for any Cornell Dining meal taken afterwards.
Cornell Engineering Experience
June 20-August 4, 2020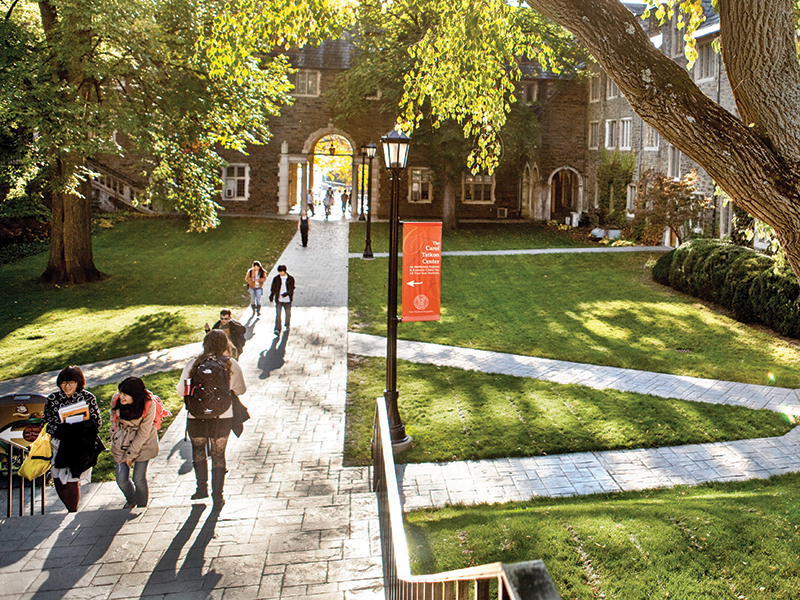 More than 40 intensive precollege programs give motivated high school students a taste of college academics.