Program status
Unfortunately, due to COVID-19, this program has been cancelled.
The good news is there are more than 100 Summer College online courses from which to choose. In addition to biology, chemistry, and veterinary medicine, we are offering science classes in subjects including ecology, anthropology, psychology, and physics. See the online course roster for all your options.
These regular Cornell courses give you a chance to study online with Cornell faculty, work alongside undergraduates, earn college credits, gain a Cornell transcript, and get a head start on preparing for college applications. We also will continue to offer you our one-on-one admissions counseling and other engaging ways to connect with Cornell.
Visit our online learning pages to read about course formats, academics, tuition, registration deadlines, and more.
Read about Cornell Summer College & the Novel Coronavirus (COVID-19).
Program expectations
You'll be expected to
Work in laboratory or the field daily.
Write a research paper on your work, as per professional journal submission.
Give an oral presentation on your research to other scientists.
Course
You'll be enrolled in the six-credit course
Special Studies in Biology (BIOG 2000 001-LEC)
The schedule for BIOG 2000 will vary by individual lab placement, but each student should expect to spend a minimum of 40 hours a week in their laboratory in order to receive six lab credits.
In addition, all RABS students meet weekly with program director Dr. Karen Gellman for personalized guidance and coaching aimed at helping you make your oral presentations and final papers the best they can be, and for seminars in such research topics as
Science fraud and ethics
Epidemiology and study design
Visual presentation of data for effective communication
Once you are selected as a RABS student, Dr. Gellman will consult with you about your favorite topics in biology and medicine to find the perfect mentor for you.
Required textbooks and materials
No textbooks or special materials are needed for this course.
You'll prepare for your apprenticeship before arriving at Summer College by reading background material provided by your lab mentor. Some students will know their project in advance, others will pick the project that excites them the most when they become part of their summer laboratory.
Prerequisites
Candidates must have taken at least one AP biology class or the equivalent.
If tested, candidates must have scored four or five on the AP exam.
Candidate must have a thorough grounding in cell biology.
Application guidelines
Enrollment in RABS is highly competitive and extremely limited—there are a limited number of apprenticeships available.
You're strongly encouraged to apply as early as possible for the best lab placements. Placements are available in biomedical engineering, molecular biology, cancer research, animal physiology, and many other areas. You'll receive an admissions decision via email by March 23, 2020.
This is not a program to explore a nascent interest or to round out activities for college applications; only those students who know they are serious about research should apply. Strong candidates must have demonstrated their interest in research through previous research activities in industry or at a university/college.
No application will be considered without a detailed letter of recommendation from your research mentor (if this is a graduate student, please also submit a letter from your lab director) along with a summary of your work (or papers/posters that resulted from it). This letter must be printed on official university letterhead. If you have not conducted research, then you must have taken a didactic research skills course and you must submit a detailed letter from the course instructor about your work in this course.
RABS applicants should submit a recommendation from their AP biology teacher as well as from another teacher and/or guidance counselor. If AP biology is not available in your school, you should include in your application a teacher's letter of recommendation addressing your knowledge of cell biology.
You must commit to the program and pay in full within five business days of being accepted to RABS. Unfortunately, no refunds are available once you have committed to the program and been placed in a lab.
There are no guarantees that your RABS project can be submitted in science competitions—this will vary case by case, and may be dependent upon the university's proprietary interests in intellectual property.
Program events
View your opening weekend and check-in schedule.
Friday, July 3: In observance of Independence Day, we will not have classes.
Mondays, July 6 or 13: College Admissions Workshop, 2:30–3:45 p.m.
Monday, July 20: College Fair, 4:00–6:00 p.m., Statler Hall Ballroom
Final checkout
To receive credit, you must not leave before you submit your last project and complete your academic obligations, so make sure to arrange travel plans around these deadlines.
Residence hall checkout dates and times
Earliest: 5:30 p.m., Friday, July 31
Latest: 5 p.m., Saturday, August 1
Final meal date
The last meal on your Cornell ID card is breakfast on Saturday, August 1. You'll be charged for any Cornell Dining meal taken afterwards.
Research Apprenticeship in Biological Sciences (RABS)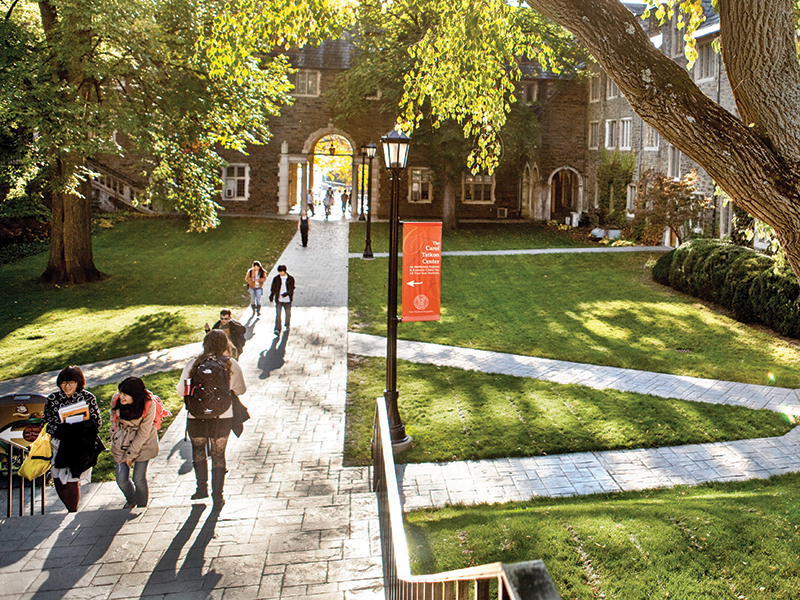 More than 40 intensive precollege programs give motivated high school students a taste of college academics.