Current Scholarships, Endowments, Sponsors & Partnerships
We are extremely grateful to all of the organizations and individuals who, through their generous support, make it possible for a growing number of students to benefit from precollege studies at Cornell. Below are some of our current and past sponsors.
Scholarships
The following awards are based on demonstrated family financial need and outstanding academic ability:
Targeted scholarships for Cornell University Precollege Summer Program students who cannot pay the full program charge and who may be the first in their family to attend college. Current scholarships are available only for students who demonstrate financial need and whose academic performance has been outstanding.
The David R. and Patricia Atkinson Rural Scholarship Initiative for high-achieving, low-income students from small towns near Ithaca. Read stories about the Rural Scholarship Initiative here and here, which have made it possible for dozens of high-achieving students to attend the Cornell University Precollege Summer Program.
Jon Kopita Scholarship for students from New York City, including the Marble Hill High School for International Studies in the South Bronx. Read and watch a story about the Marble Hill partnership
The Erica Karsch, Michael Karsch, and Thomas Tuft scholarships for students from the Marble Hill School for International Studies in the South Bronx, New York. Read and watch a story about the Marble Hill partnership
Conrad N. Hilton Foundation Scholarships
Dean's Scholarships. Read a story about a student who recently recieved this scholarship.
Cornell American Indian Program Scholarships
Goldfarb Family Scholarship and Hartford Scholarship for students from Hartford, Connecticut city schools
Additional scholarships are funded through individual gifts by Cornell alumni and/or matching corporate donations
Endowments
The Schenker Endowment in the Humanities and Sciences
Thanks to the generosity of Walter Schenker '68, hundreds of students have been exposed to topics in the humanities, social sciences, and natural sciences, from astronomy and chemistry to history, psychology, foreign language studies, and theater arts.
The Faye and Harry Blumin Scholarship Fund
The Faye and Harry Blumin Scholarship Fund was established in 1992 to provide an annual scholarship for a student to attend the Cornell University Precollege Summer Program (preference is given to a student from Florida).
Sponsors and partnerships
Jack Kent Cooke Foundation
The goal of this private, independent foundation is to help talented students reach their full potential through education. Launched in 2000, it focuses in particular on students with financial need.
Joyce Ivy Foundation
Established to assist young women in their pursuit of higher education opportunities, the Joyce Ivy Foundation is dedicated to the academic advancement of young women in the Midwest. It has been a Cornell University Precollege Summer Program partner since 2009.
KIPP NYC
This non-profit network of free public charter schools focuses on academic achievement and character development. The goal of KIPP NYC College Prep, which opened in July 2009 to serve students from KIPP NYC's four middle schools, is to help students "develop the knowledge, skills, and character needed to succeed in top-quality colleges and in the competitive world beyond."
Minds Matter
This organization was founded in 1991 to help motivated students who do not have the guidance or financial support to strive for their academic goals. The mission of Minds Matter is to aid high school students in finding academically enriching summer experiences at colleges and universities and preparatory schools. The Senior Program helps seniors with their college applications process. All of the young professional mentors involved in Minds Matter are volunteers.
Office of the State Superintendent of Education (OSSE)
OSSE is an education agency for the District of Columbia charged with raising the quality of education for all DC residents. OSSE works closely with the District's traditional and public charter schools to achieve its key functions, which include overseeing all federal education programs in the District, awarding higher education financial assistance to eligible DC students, and providing resources and support to assist the District's most vulnerable student populations.
Schuler Family Foundation Scholars
This program works to motivate and change the behavior of high-potential students and to encourage them to strive towards a goal of graduating from a top-ranked college. The program serves students from selected high schools in the the Chicago area.
The Opportunity Network
A New York City non-profit, The Opportunity Network helps prepare talented, low-income students for college and career success. The program works with students for six years, starting in their junior year of high school and continuing through to their college graduation. One hundred percent of these students graduate from college (compared with only 10 percent of low-income students nationwide), and within six months of graduation, 85 percent are admitted to graduate school or find professional employment.
Upward Bound
A non-profit organization run by the U.S. Department of Education and funded by grants, Upward Bound provides free college preparatory programs for academically talented students with financial need. Through Cornell Upward Bound, area students develop the skills and motivation necessary to ensure their high school graduation, college enrollment, and success in pursuing a higher education. The Cornell University Precollege Summer Program collaborates with Cornell Upward Bound to locate private donor and foundation support to enable students in the Finger Lakes to enroll in the Cornell University Precollege Summer Program.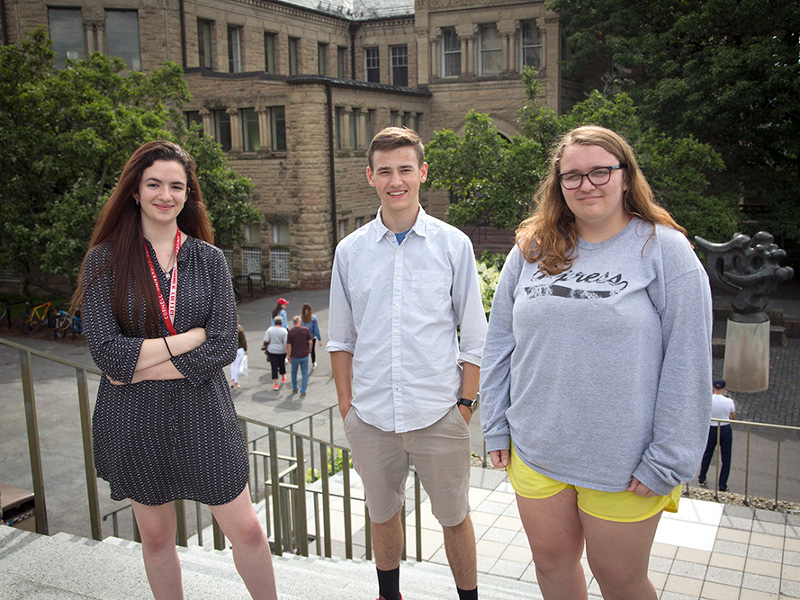 Read about the Atkinson Rural Scholarship Initiative, which recently made it possible for 11 high-achieving, low-income students from small towns near Ithaca to attend Cornell University Summer College.