Give to the Precollege Summer Program
Help students achieve their dreams
Cornell University's award-winning Precollege Summer Program, in keeping with Cornell's founding principles, is dedicated to providing excellent educational opportunities for young people, regardless of their socio-economic or ethnic status. To that end, we welcome support from individuals and organizations interested in furthering our mission.
For more information, please review the links for
We also encourage you to contact us directly.
And be sure to check out an editorial in The Hill by Cornell SCE's former Dean Glenn Altschuler and Jim Schechter about "How to make college accessible to students from rural communities."
An opportunity for students of all backgrounds
Started more than 50 years ago, the Cornell University Precollege Summer Program is one of the nation's longest running programs of its kind. Each summer, more than 1,500 motivated high school students from around the world study with Cornell during three- and six-week programs. Students:
Take regular college classes with leading Cornell faculty.
Earn three to eight credits and an official Cornell transcript.
Prep for college applications and receive one-on-one admissions counseling.
Explore careers and academic majors.
The Precollege Summer Program is a unique opportunity for students of all backgrounds to experience college life, test their interest in and aptitude for a rigorous higher education, and make great friends. Students often say it was the best summer of their life.
A supportive yet challenging environment
For all students, but especially for disadvantaged students, the supportive yet challenging Precollege Summer Program environment can make the difference between minimal academic preparation and being successful in both school and future careers.
We also offer limited financial aid and are dedicated to expanding our range of scholarships, endowments, sponsors, and partnerships.
"I feel privileged to have attended Cornell's Summer College. It provided me with the unique opportunity to challenge my critical and creative thinking in full-level university courses. From faculty to students to staff, everyone was very dedicated, supportive of one another, and globally minded... I remember the excitement I felt to interact with diverse groups of people who showed as much enthusiasm and conviction for learning and culture as I did. Cornell has broadened my understanding of the world and motivated me to move on to the next level of academic accomplishment. I feel that, because of Cornell's effect on me, I have truly taken a quantum leap in my independence, intelligence, and maturity."
Amber Lee James, Cornell Summer College and Cornell's College of Agricultural and Life Sciences
"For me, Cornell Summer College provided a striking glimpse of Cornell life in many ways. I received personal attention throughout the entire application and matriculation process. I was offered and embraced a selection of diverse and rigorous academic coursework... Such welcomed inspiration existed as I completed Cornell's undergraduate application as a high school senior and it continued throughout my four years as an active Cornellian. Although a large and selective international university, Cornell has a remarkable ability and opportunity to make a very personal impact on each individual life that enters its world. I am thankful for the Summer College experience for allowing a convincing enough peek at this reality."
Tamara Webb, Cornell Summer College and Cornell's College of Arts & Sciences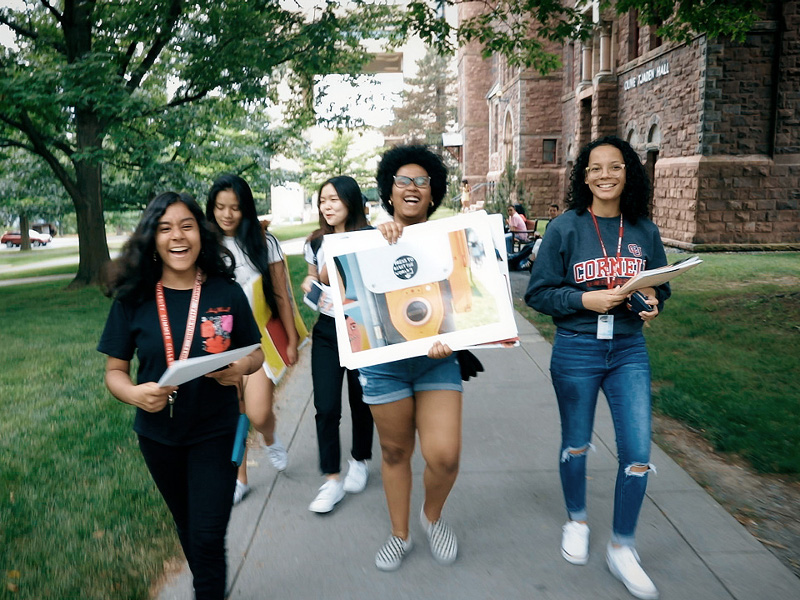 Ramsaran is one of more than 55 South Bronx high schoolers who are now better prepared for college thanks to Summer College scholarships.