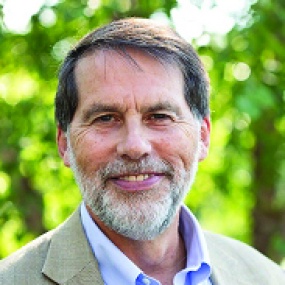 The Francis J. DiSalvo Director of the Atkinson Center for a Sustainable Future, Cornell University
David Lodge serves as Cornell University's first Francis J. DiSalvo Director of the Cornell Atkinson Center for Sustainability. His academic home is Cornell's Department of Ecology and Evolutionary Biology, with a joint appointment in the College of Agriculture and Life Sciences and the College of Arts and Sciences.
A faculty member at the University of Notre Dame for 31 years, David has collaborated with economists, historians, theologians, and philosophers to link research to sustainability solutions, especially at the intersection of invasive species, water resources, and public policy. He founded the University of Notre Dame Environmental Change Initiative, served on the scientific advisory boards of the U.S. National Oceanic and Atmospheric Administration and the International Joint Commission, and was the first chair of the U.S. government's national Invasive Species Advisory Committee.
David has led research on freshwater biodiversity as part of the United Nations' Millennium Ecosystem Assessment and led an expert subcommittee providing advice to the U.S. Environmental Protection Agency on reducing biological invasions from the ballast water of ships. He recently served as a Jefferson Science Fellow in the U.S. Department of State.
Under David's leadership, Cornell Atkinson Center is focused on working with NGO, corporate, foundation, and government collaborators to move knowledge to action in reducing climate risks, accelerating energy transitions, increasing food security, and advancing the One Health Initiative.